Welcome Above – virtual reality game (2016 – )
Although I've worked on games before, this is my first time doing one in VR! I'm ecstatic to be creating the ethereal soundtracks to the various worlds of this gorgeous project – a fun, new multiplayer VR bird flight simulation for HTC/Vive.
The prototype was mostly built during an intensive 7-day retreat at the Farbrausch "Elite-Haus" and thus far includes 4 worlds. Everything's very much still a work in progress and being chiseled out, but here's a tiny glimpse into one of the landscapes in its current stage. More to come soon…
Update: a prototype version of our game was an absolute hit at CeBIT 2017!! We had some amazing feedback and are now even more motivated to continue developing it and to release the game as an app on Steam this summer – so stay tuned!
This elegant flier even came back around the second day with a purposely bird-matching pink, feathery sweater: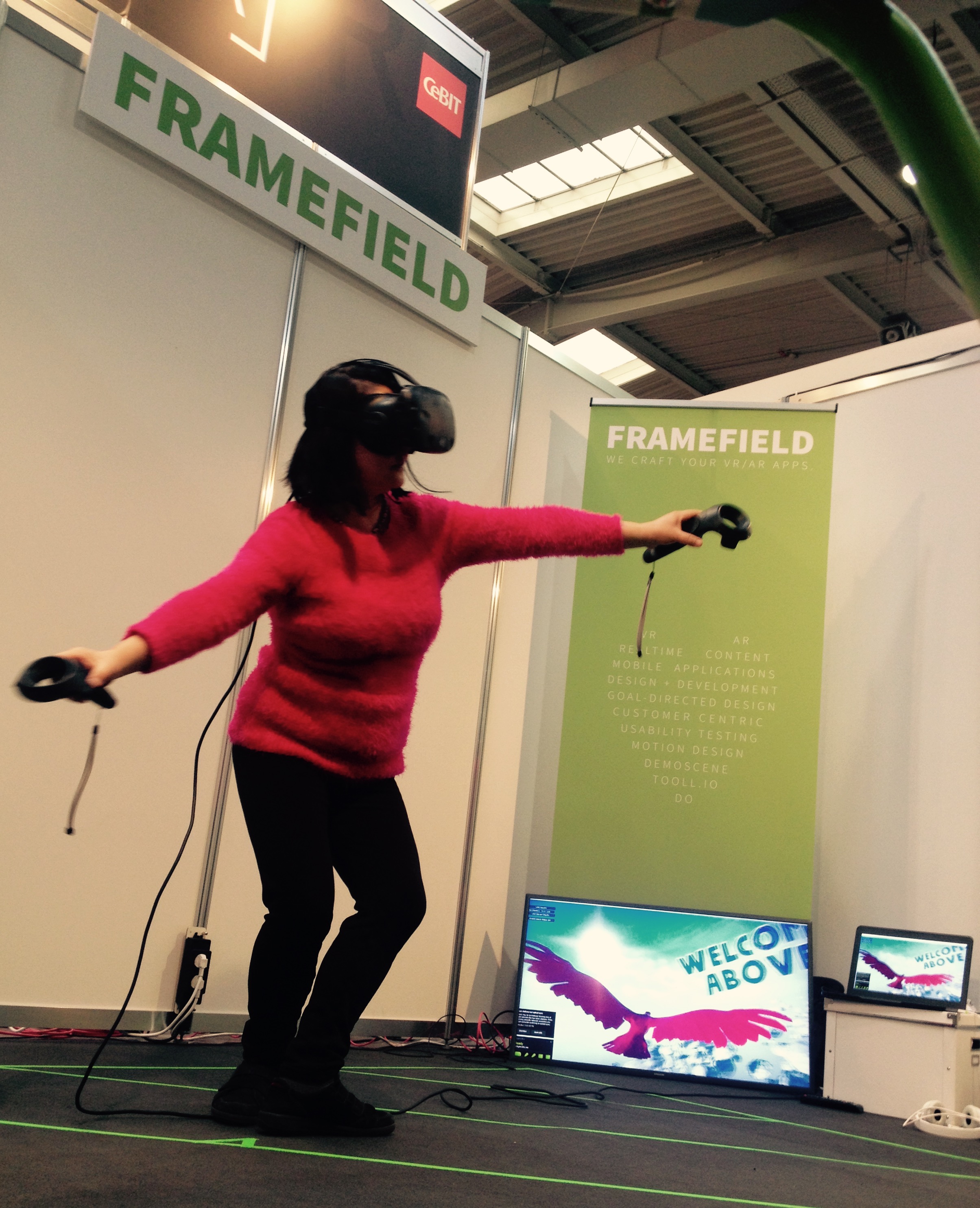 True Color by Still (2016)
And the dark synth madness continues…! This real-time animation production is an invitation for Evoke 2016 in Cologne and was released at Revision 2016 in Saarbrücken. One year later it was nominated for the Meteoriks 2017 Best High-End Demo award. Enjoy the psychedelic journey into the reaction diffusion feedback function…
A Planet's Lava Lamp by Christian H (2015)
Friends of outer space, data visualization and ambient, abstract music: here's a small project I worked on with DLR CFD specialist Christian Hüttig. It's a simulation of a convecting Mars interior over a duration of 1.4 billion years. In other words: a Martian lava lamp. 🙂

Parnassum by Still (2015)
I worked with team Still on a real-time animation project where I played the piano "cover" of Debussy's Dr Gradus ad Parnassum, which was used as the sonic backdrop to feature and explore in their software the visualization of piano notes with particle effects. "Parnassum" won 2nd place in the Demo-Compo at Evoke 2015 in Cologne, Germany – a pleasant surprise!

Nothing Changes by Still (2015)
It was fun creating the darker, ambient sonic atmosphere for this video, another Still production that was filmed and edited on an iphone6. Delighted that it picked up a 2nd place at Deadline Berlin 2015.

meet the deadline by Still (2014)
My track "Channelling" was released in summer 2014 as the soundtrack for the Deadline 2014 Berlin demoparty invitation, "meet the deadline" by the demoscene group Still.
Beta by Still (2011)
My very first soundtrack release was through the demo-group Still, who used one of my songs for their real-time animation, "Beta".
"Beta" won 1st place in the Demo-Compo at Evoke in Cologne, Germany (2011); and 1st place for Most Original Concept at the 10th Annual Scene.org awards in Helsinki, Finland (2012).
---