---
Follow me on YouTube @LucidBerlin or on Instagram @lucidbln for the most recent updates on personal projects and events…
---
---
(2011 – present) Demoscene* realtime animation & audiovisual soundtracks (selection)
*now a UNESCO recognized cultural heritage! / I most frequently compose for the demoscene group "Still" & WAKE audiovisual
There by Still (Revision 2021)
My music for "There" was a Meteoriks nomination for Soundtrack of the Year 2021!! This is an incredible honor. Thank you so, so much Meteoriks and demoscene!  ❤️ ❤️
This release we made for Revision 2021 was especially close to our hearts. Because of this and especially because of the insane amount of quality competition at Revision – the world's largest purely demoscene event – we were very honored to receive awards for Crowd Favourite (2nd place) and Best PC Demo (3rd place). Thank you, Revision. It was also nominated for Best Concept of 2021 by Meteoriks.
---
in sonmi by Still (Evoke 2022)
Pixtur requested jungle, so that's what I freakin' gave him! Super delighted that we picked up 3rd place at Evoke 2022 in Cologne with our last-minute production, "in sonmi" [sic]. It was my first time using the Amen break as a foundational element of production, and I had loads of fun with it. 😆 Rave on, team Still!
This year I also enjoyed sitting on the jury that helped select the nominees and winner of Evoke's "Best Newcomer 2022" award (congrats Mocoo!).
---
drd5 by Still (Evoke 2021)
Thrilled that we got 1st place PC Demo for this release! Evoke, we love y'all, and can't wait to see you (hopefully in person again) in 2022. PS – DRD5 was also nominated as one of the best high-end demos of 2021 by Meteoriks. ❤️
---
Strings by WAKE (Revision 2021)
I'd always wanted to incorporate live hammered dulcimer (!!) into a track…so here ya go! This is a quick demo exported from our live WAKE A/V set, released at Revision 2021.
The full 37-min audiovisual Lockdown Edition set can be found here.
---
Home by Still (Revision 2020)
A small release made for Revision 2020 Quarantine Edition, it's also the first time publicly testing running realtime visuals with the brandspankinnew, home-developed software tooll3! 🍾 (Best viewed in HD for details.)
---
Synchotron by WAKE (Revision 2020)
This is a synthtastic little demo release from our live WAKE A/V set at Revision 2020.
The full 37-min audiovisual Quarantine Edition set can be found here.
---
About Us by Still/WAKE (2019)
This video capture was based on our live WAKE audiovisual set – and was a fast, last-minute entry for the demo competition at the Deadline 2019 demoparty in Berlin.
---
The Point by ellipse (2019)
Made with Processing3 live capture footage, The Point is the first in the ellipse trilogy – a small solo audiovisual project of mine that was born out of creatively coding visuals with P3. Made & released during Farbrausch's 2-week "Elite Haus" retreat at the Baltic Sea in dark and frigid November.
---
Directrix by ellipse (2019)
Made with Processing3 captures and original video footage, Directrix is another piece of the ellipse trilogy – a small solo audiovisual project of mine that was born out of creatively coding visuals with P3. Made & released during Farbrausch's 2-week "Elite Haus" retreat at the Baltic Sea in dark and frigid November.
---
True Color by Still (2016)
And the dark synth madness continues…! This real-time animation production is an invitation for Evoke 2016 in Cologne and was released at Revision 2016 in Saarbrücken. One year later it was nominated for the Meteoriks 2017 Best High-End Demo award. Enjoy the psychedelic journey into the reaction diffusion feedback function…
---
A Planet's Lava Lamp by Christian H (2015)
Friends of outer space, data visualization and ambient, abstract music: here's a small project I worked on with DLR CFD specialist Christian Hüttig. It's a simulation of a convecting Mars interior over a duration of 1.4 billion years. In other words: a Martian lava lamp. 🙂
This track was also selected to broadcast as part of an intergalactic sound journey conceptualized and curated by the one-day astronaut artist Alan/HumanKind from his spaceship in Milan, Italy in Dec. 2018 . More info on his project can be found here.
---
Parnassum by Still (2015)
I worked with team Still on a real-time animation project where I played the piano "cover" of Debussy's Dr Gradus ad Parnassum, which was used as the sonic backdrop to feature and explore in their software the visualization of piano notes with particle effects. "Parnassum" won 2nd place in the Demo-Compo at Evoke 2015 in Cologne, Germany – a pleasant surprise!

---
meet the deadline by Still (2014)
My track "Channelling" was released in summer 2014 as the soundtrack for the Deadline 2014 Berlin demoparty invitation, "meet the deadline" by the demoscene group Still.
---
Beta by Still (2011)
My very first soundtrack release ever was through the demo-group Still, who used one of my songs for their real-time animation, "Beta".
"Beta" won 1st place in the Demo-Compo at Evoke in Cologne, Germany (2011); and 1st place for Most Original Concept at the 10th Annual Scene.org awards in Helsinki, Finland (2012).
Beta Final from pixtur on Vimeo.
---
---
(2020 – 2021) Year of the Corona
Hands down, this has been a challenging time for everyone! A few of the things that have helped me get through include diving deeper into programming, mathematics, creative coding and algorithmic composition. Over the past year of lockdowns, I've explored in more depth: C++, C# (esp. for Unity/fmod projects), java-based Processing P3, P5.js, ChucK music programming language (OOP), MAX/MSP, Sonic Pi/Ruby, TidalCycles/Haskell, and SuperCollider.
Here's a selection of examples from my corona-year of music programming & creative coding (plus original video footage):
I used TidalCycles to code the beats in three tracks from our WAKE at Revision 2021 Easter set, from 7:20-25:10 (visuals by pixtur):
---
---
(2016 – present) Music & Sound for clients
As the in-house composer & sound designer at Framefield GmbH, I'm on board doing soundtracks, sound design and voice-overs for interactive VR/AR/XR applications and related videos for in-house projects as well as for major corporate clients that are internationally showcasing innovative projects.
---
---
(2018) Welcome Above – virtual reality game
Our indie VR game, Welcome Above, was released in December 2018, and can now be purchased on Steam! Many thanks to Medienboard Berlin-Brandenburg for their generous support.
I'm thrilled to have done the music, sound design and voiceovers for this exciting, intense audio-driven VR bird simulation project. As a bird, the user flies through dreamy landscapes, all the while creating her/his own soundtrack in the process. It's official: I've fallen completely in love with interactive sound design, and there's no turning back!
Learning how to work with Unity on such an intense, full-time project (whose completion ran from May to December 2018) was an exciting and complex challenge. And Unity is what I did the bulk of the time…doing not only run-of-the-mill soundtracking, but also game design, 3D sound object placement and complex zoning. I worked extremely close with the developers who created a personalized, in-house Unity sound editor just for me. (I feel so spoiled.) All in all, it was an extremely intense and time-consuming project for such a small team – but we're stoked about the results.
Here's a small fly-through audio capture:
And check out this cool review:
---
For anyone interested in the process, here you can follow some of the development (which happened only during sporadic, week-long creative retreats) over the past several years:
(2016) The first prototype for our bird flight simulation was mostly built during an intensive 7-day retreat at the Farbrausch "Elite-Haus" and thus far includes 4 worlds. Everything's very much still a work in progress and being chiseled out, but here's a tiny glimpse into one of the landscapes in its current stage. More to come…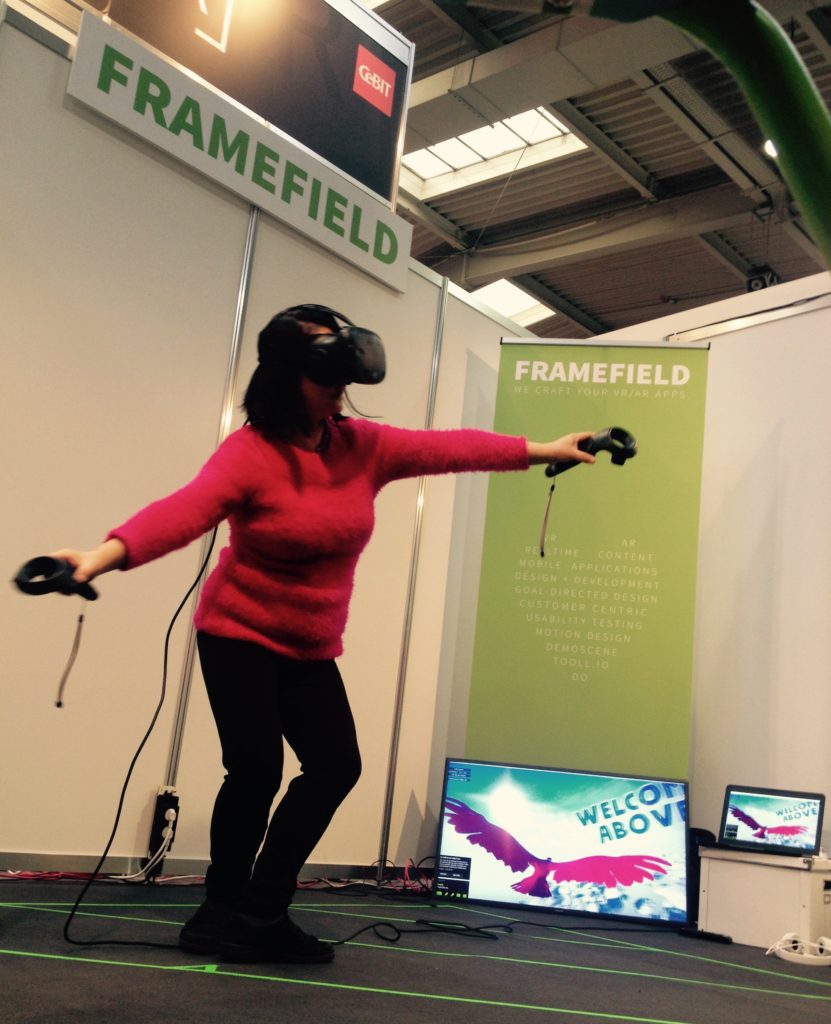 (March 2017): a prototype version of our game was an absolute hit at CeBIT 2017!! We had some amazing feedback and are motivated to continue developing it – so stay tuned! This elegant flier even came back around the second day with a purposely bird-matching pink, feathery sweater.
(March 2018): Exciting news – "Welcome Above" got funded!! Thank you for your incredible support, Medienboard Berlin-Brandenburg! Our hard work is finally paying off. And this means lots of exciting soundtrack work to keep me busy in 2018…!
---
(2017) Boombox – audio-driven VR game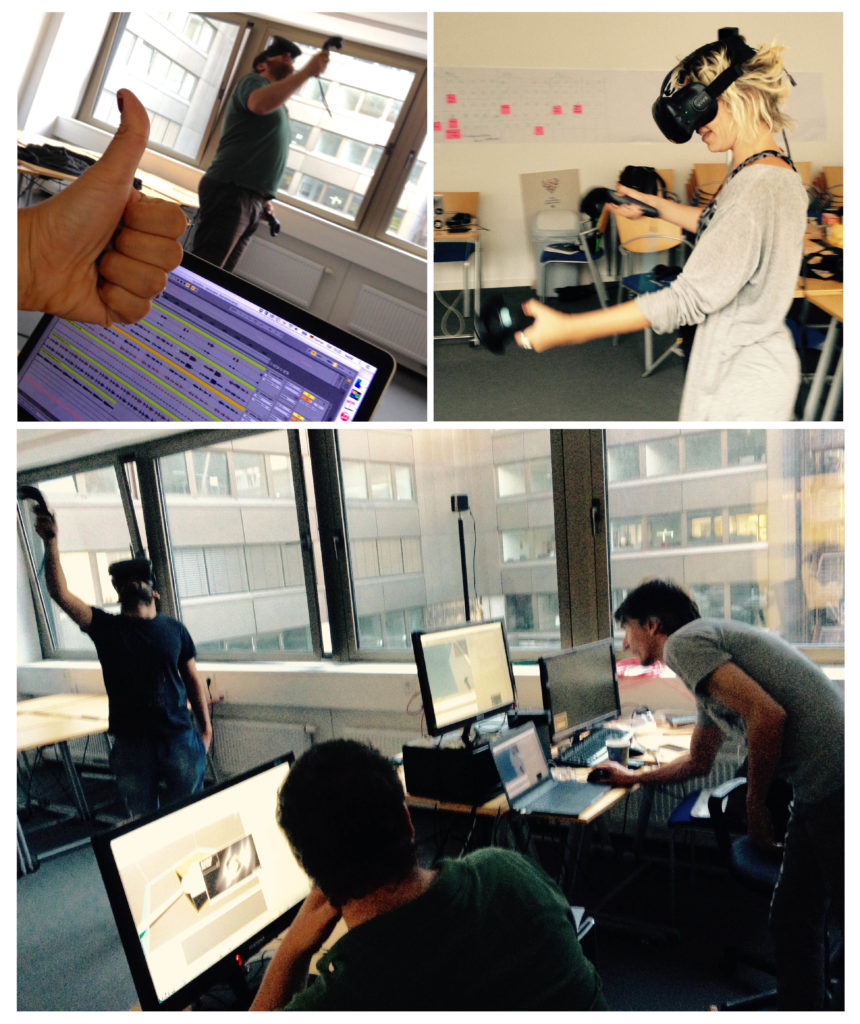 At the 2-day (5.-6. August 2017) global VR hackathon in Berlin working on the music for our new virtual-reality project: Boombox, an interactive three-dimensional song-building experience for HTC/Vive. People had a blast playing the producer.
The building blocks/booming boxes have a range of flexible electronic sounds, which could be put together to make anything from experimental, ambient, techno, house, to even progressive or trance towers. The interactive experience was also enhanced through allowing the user to create effects racks.
Here's a video capture of Pixtur playing producer on this first prototype:
---
---
(2014) c't magazine's "Game Over" remix competition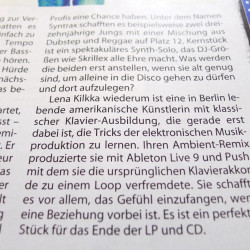 My first remix EVER went vinyl!! I was one of the 9 final winners in c't magazine's "Game Over" by Achim Kück Trio remix competition. This means my dark, experimental, psychedelic ambient track -"Game Over (Lucid remix)" – was released on LP and CD.  The competition results were published in c't's 2014 No.9 issue.
You can see c't magazine's jury discuss/recap their analysis of the top picks in the video (in German) in the following link.  http://www.heise.de/ct/artikel/c-t-Remix-Wettbewerb-Game-Over-2047534.html
---