The boundary between wakefulness and sleep forms its very own reality. This border crossing seemingly randomly places together images, sounds and sensations that seamlessly melt into the normal discourse of the subconscious. Only upon reflection in full consciousness do such constructions take on a bizarre character, creating an odd impression.
Music, photography, and the ever-morphing audiovisual realms of today's interactive digital landscape are my therapeutic media; they enable me to process and express visually & sonically the dreadful yet colorful realities of living with the curse and blessing of narcolepsy and the inherent normality of its peculiar overlapping of various stages of consciousness.
Much of my creative work is based on images, sounds and sensations that come to me during the transition of realities; it attempts to communicate how the horror, beauty and even absurd humor of these vast, complex worlds go hand in hand.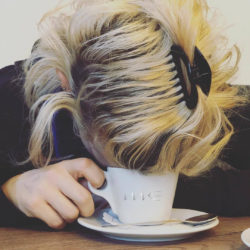 based in Berlin, Germany
contact: wake.audiovisual@gmail.com
follow on IG: @lucidbln
*The b/w header photo on this website is credited to photographer Christopher Dilts – taken at The Empty Bottle, Chicago (2016)