LucidBerlin on Soundcloud : Follow me on Soundcloud for sneak peeks into recent projects and experiments…
---
SleepLab – *NEW* launched May 1st 2017!
Dystopian dreamworlds & sonic insomniac daymares. SleepLab is an electronic music project and small Berlin-based DIY cassette label that I initiated with the support of cassette-master Al Burian. SleepLab features my and co.'s often avant-garde and experimental synth-based works that were spawned in the throes of the nocturnal fusion of classical and rave. Some live audio-visual shows are on the agenda, as are cassette releases, not only of my solo works, but also of collaborations and curation. Please help spread the word and some positive sonic vibes by following us on bandcamp and facebook.
---
Eclectic Electronic (2013-2016)
An eclectic mix of creations from the past few years. Bitte schön.
---
c't magazine's "Game Over" remix competition (2014)
My first remix EVER went vinyl!! I was one of the 9 final winners in c't magazine's "Game Over" by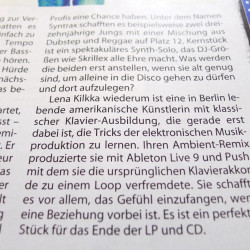 Achim Kück Trio remix competition. This means my dark, experimental, psychedelic ambient track -"Game Over (Lucid remix)" – was released on LP and CD.  The competition results were published in c't's 2014 No.9 issue, and they very generously wrote a whole paragraph (in German) about me/my piece.
You can see c't magazine's jury discuss/recap their analysis of the top picks in the video (in German) in the following link. Feel free to fast forward to 21:00.  http://www.heise.de/ct/artikel/c-t-Remix-Wettbewerb-Game-Over-2047534.html
---
Acoustic Compositions & Arrangements (2013 – 2014)
These are small pieces for various acoustic instruments that I've been fiddling around with, such as hammered dulcimer, mountain dulcimer, classical guitar and flute. I find that composing/arranging is a fun and useful way to explore these instruments' sounds. Also, one of my (considerably) long-term sub-projects is to compose a collection of easy-yet-interesting pieces for the early-intermediate piano student.

The SHEET MUSIC (PDF) for these songs can be found by clicking on the respective title:
Dear Dorian* (2014) – original composition for hammered dulcimer
Country Dance* (2013) – arrangement of Carulli's Country Dance for hammered dulcimer & flute. And here's the original version sheet music for guitar.
Reminiszenz No.1 (2014) – original composition for piano
*MuseScore's "harp" = hammered dulcimer
---
DJ Mixolydian vinyl rave mixes on cassette (late 1990s)
Nostalgic for the 90s acid & progressive sound? (Nah, I didn't think so.) Nostalgic for the questionable sound quality of vinyl recorded on to tape? (OK, maybe.) In my old cassette collection I re-discovered some acid & progressive-filled DJ sessions I did on the decks in the late 90s/early 00s as "DJ Mixolydian". I'll be uploading them bit by bit. Never mind the crap sound quality – this time it's all about nostalgia. RAVE ON, RAVERS…!